Supporting Children Returning to Child Care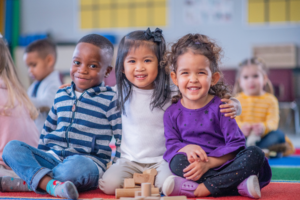 Coronavirus disease (COVID-19) can, directly and indirectly, affect young children from birth to five years. Beyond getting sick, the pandemic has impacted many young children's social, emotional, or mental well-being. Children under five years old who stay home with parents 24/7 may experience positive parental attachment. The flip side of this is the potential for feelings of separation anxiety in small children once public health restrictions lift. As children return to childcare, there is a period of adjustment. While some children are eager to return, others struggle with a significant amount of anxiety regarding returning to childcare.
Children may experience increased separation anxiety as they have grown accustomed to being around their families more frequently. Others may feel overstimulated and socially anxious upon re-entering their childcare setting. Adverse child experiences, like the pandemic, may rewire their brains and constantly put them in fight-or-flight modes. While these children are thrilled to be back and playing with friends, it may take very little for them to display challenging behaviours.
Parents and caregivers can help children work through those anxieties and find their footing again.
The amount of formal or organized group experiences that generally occur in young children have largely been missing, so there will be an increase in unaware and self-centred behaviours, such as:
children wanting all the attention from a parent or caregiver.
children picking on their peers to get a parent's or caregiver's attention.
tantrums when children do not get what they want.
children taking toys or other objects from other children.
Many young children have missed out on the social experiences that previously might have better prepared them for the childcare setting. Adults can assist by continuing to help children foster and grow those skills.
It's important to remember that children are resilient, and with patience, modelling, and support, most will develop these social skills.
Other Information
Parents and other adults serving children should recognize and understand children's social, emotional, and mental challenges and help to ensure their well-being. Click below to learn more.
Change in routines (click to expand) »

Children are accustomed to daily caretaking routines that support their development and well-being (i.e., diaper changes, feeding, hair combing). Disruptions in these routines and the sudden loss of usual caregivers due to public health measures can be traumatic for young children.
Childcare closures (click to expand) »

Occasional childcare closures may mean that young children have to stay at home. At the same time, parents and caregivers juggle caretaking, supervision of play and learning, and their responsibilities to their employers.
Significant events and milestones (click to expand) »

Birthdays, vacation plans, births, weddings and funerals are just a few of the many significant life events that families may miss experiencing during the COVID-19 pandemic. These gatherings are necessary for social development.
Loss of security and safety (click to expand) »

The household income of many families with young children has been affected during the COVID-19 pandemic due to job loss and lost wages. Economic insecurity is a link to adverse childhood experiences that can negatively impact their social-emotional development, learning, and health. They may have inconsistent access to healthy foods, safe transportation, and housing. Economic stress on families can increase children's risk of child abuse and neglect, intimate partner violence at home, and sexual violence.
What can you do? (click to expand) »

Personal interaction, touch, novelty, and excitement are required for healthy child development. The brain in young children is growing and forming new connections and is primed for learning. With limited childhood experiences, child development may be negatively impacted.

While virtual interactions can be beneficial in the short term, they're not a satisfactory substitute for real-life interactions. It is the give and take of in-person interactions from which children gain the most benefit; they learn to share, to take turns, and to resolve conflicts, none of which can be accomplished as effectively through screens. Being isolated at home can dramatically decrease opportunities for new experiences and self-discovery.
Help Provide Stability and Support to Young Children (click to expand) »

Maintain a normal routine.
Talk, listen, and encourage expression.
Under supervision, allow them to move about and explore, returning to a parent or trusted caregiver.
Give honest and accurate information.
Teach simple steps to stay healthy.
Be alert for any change in behaviour.
Help them learn to share (click to expand) »

During the pandemic, children have learned to maintain physical distance and not touch an item that somebody has handled. Young children are at the stage when they need to learn the skill of sharing, and they need to learn it in their early years. While they will learn it later, it is hard now that they have not become accustomed to sharing.
Help them develop speech and language skills through play (click to expand) »

Children are lacking the usual social interactions that they would have gotten from exposure to people outside their homes. They lack playtime with other children. This can create delays in speech and language development.
Why is this important?
During the pandemic, adverse childhood experiences are on the rise. These kinds of stressful events can have long-term consequences. Social restrictions can limit the formation of some brain regions, including the social brain and the acquisition of cognitive, behavioural, social, and communication skills. There can be long-term effects, such as learning disabilities, depression, obesity, and heart conditions.
Services related to this information:

Contact your Public Health Nurse.
Contact your physician/nurse practitioner.
811 HealthLine (Newfoundland & Labrador) – Call 811 or 1-888-709-2929 / TTY 1-888-709-3555.
Bridge the gapp – Newfoundland and Labrador's 'go-to' website for mental health information. Bridge the gapp offers self-help resources, links to local services, and invites people to share their personal stories. Bridge the gapp is free of cost and available to every resident in the province. The site is divided into adult and youth sections, however many services are appropriate for both.