Wildfire Smoke and Your Health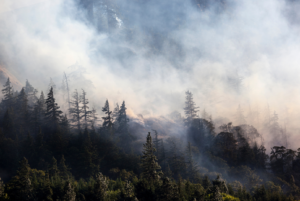 You can protect yourself from health risks related to wildfire smoke.
During forest fire season, you may notice wildfire smoke in your community. This happens all over the country. In Newfoundland and Labrador, forest fire season is in effect from May 1st to September 30th on the island and May 15th to September 30th in Labrador.
How to know if you're at risk
Exposure to wildfire smoke can impact your health. In Canada, the Air Quality Health Index (AQHI) from Environment Canada tells you about the health risk from local air pollution and how you can protect your health.
The AQHI is broken into four risk categories: low, moderate, high and very high. The AQHI explains how you can protect yourself against wildfire smoke.
Some people have a higher risk of health problems when exposed to wildfire smoke, including:
Seniors
Pregnant people
People who smoke
Infants and children
People who work outdoors
People doing strenuous outdoor activity
People with existing illnesses/conditions such as cancer, diabetes, lung or heart conditions
To learn more about the AQHI visit: Air Quality Health Index (AQHI), Environment Canada. 
How to protect yourself
The best way to protect yourself and your family from wildfire smoke is by reducing your exposure:
Use care when spending time outdoors during a wildfire smoke event, check the AQHI and special air quality statements
Keep the air in your home clean by keeping windows and doors closed
If it is too warm and you do not have air conditioning, find clean and air conditioned public buildings like a mall or library
Services related to this information:

811 HealthLine (Newfoundland & Labrador) – Call 811 or 1-888-709-2929 / TTY 1-888-709-3555