Challenging Behaviours: Teens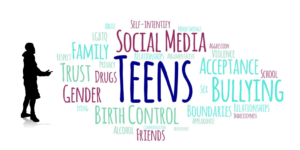 You are the parent of a teen and may be wondering at what point your lovely child turned into this unknown person living in your home!
Your teenager's job is to develop into an independent adult. They do this by testing boundaries and questioning their world to see how others react to their behaviour. Even the most fantastic parent with a great relationship with their teen will have issues dealing with challenging behaviours. Having an insight into their needs and what they are going through will help you support your teen without risking your relationship.
Be present for your teen
Your adolescent child has a unique personality with different likes and dislikes. Even if your teen seems grown up or independent, withdrawn or troubled, they still need your attention for guidance and to feel loved.
Create structure and support
Discipline isn't about punishment. It's about guiding children toward appropriate ways to behave. For pre-teens and teenagers, discipline includes setting reasonable limits to guide their behaviour. You can prepare for a smooth transition and success by creating an environment that fosters respect, communication, strong relationships, and clear family rules.
Establish rules & consequences (click to expand) »

Involve your teen and negotiate to set clear expectations of behaviour and the consequences of broken rules. Be willing to adjust the rules as your teens show responsibility or they get older. Follow up on broken rules consistently, calmly, and firmly. Negotiate the rules to help your child learn to use compromise in decision-making.
Choose your battles (click to expand) »

Everybody makes mistakes, and nobody's perfect. Learning to live with mistakes and knowing what is important enough that you are willing to have a confrontation about will help maintain your relationship. Ignoring an occasional shrug or eye-rolling if your teen uses acceptable behaviours may leave the conversation open when your child has unacceptable behaviour.
Defuse heated arguments (click to expand) »

Arguing will not produce a positive outcome. Try defusing an argument before it escalates. Stay calm, listen to your teen's opinions, allow them to talk about their point of view, and find an answer to the problem. Nagging is not helpful, as teens can tune out things, increasing your frustration.
Using natural consequences as part of teenage discipline (click to expand) »

Sometimes letting things happen is the best response. Natural consequences show the need for rules without you having to do anything. Teens experience firsthand why we have rules and the consequences of broken rules. It is okay to sometimes live with the broken rule and try not to fix it for them. For example, if your teen has no clean clothing on Monday because they didn't do laundry, they can either wash it or wear it dirty. Natural consequences aren't okay for situations that affect others.
Use humour (click to expand) »

If the situation calls for it, try finding the funny side in the outcome. It can lessen tension and make it a little easier to deal with. Laughter helps to find common ground with your child. It can ease the anger and stress of the situation.
Encourage self-reflection (click to expand) »

Encourage your teen to think about their behaviour and what they would do differently in the future. This allows your teen to gain an understanding of their behaviour. Self-reflection promotes a more realistic self-image and allows teens to have greater self-control over their behaviour in the future.
Maintain a healthy relationship
A teen's sense of belonging with family, friends, and community shapes their decisions. Spending time with teens highlights that they are important to you and that you care about them and provides them with positive role models. A healthy relationship between you goes a long way to understanding their needs and what they are going through.
When teens have responsibilities within these relationships, there will be chances to strengthen positive behaviours, and develop realistic expectations of their behaviours.
When you are approachable, respectful of their feelings, empathetic, and helpful, there will be many opportunities to positively guide your teen's behaviour and build a trusting relationship with eachother.
When to seek help
Challenging behaviours and mood changes are expected in adolescence. These should pass. If you suspect your child is using alcohol and drugs or becoming violent, seek professional help. If your child is self-harming or talks about suicide, seek help. If you suspect an immediate threat of harm, contact emergency services at 911.
Services related to this information:

811 HealthLine (Newfoundland & Labrador) – Call 811 or 1-888-709-2929 / TTY 1-888-709-3555
Bridge the gapp – Newfoundland and Labrador's 'go-to' website for mental health information. Bridge the gapp offers self-help resources, links to local services, and invites people to share their personal stories. Bridge the gapp is free of cost and available to every resident in the province. The site is divided into adult and youth sections, however many services are appropriate for both.