Winter Safety for Children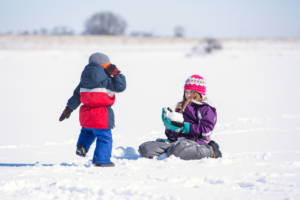 Winter time in Newfoundland and Labrador can be exciting! The white fluffy snow and glistening icicles create a picture-perfect wonderland for keeping our children active.
Understanding the basic risks and how to minimize them can help parents protect their children from the effects of winter while still enjoying all the season has to offer.
Cold weather conditions
Dress children to cover as much skin as possible. Dress in layers to allow adding or removing a layer as needed. The outer layer should be waterproof. Make sure to wear hats and mittens.
Velcro closures, snaps and zippers are the safest fasteners. Use a neck warmer instead of a scarf, and mitten clips instead of strings. Strings or cords can become caught on playground equipment, in doors, on sleds, or on other objects and strangle a child.
Check from time to time to make sure children are warm and dry. Remove any wet clothes to avoid further chilling.
Never allow children to play outside alone. Establish a buddy system with one or more of their friends and have them look out for one another. Children younger than eight years of age should have constant supervision.
When the temperature or the wind chill is -27°C (-16°F) or lower consider keeping children indoors. Wind chill increases body heat loss. At these temperatures, exposed skin will begin to freeze.
Infants cannot regulate their own body temperature or shiver and are especially prone to hypothermia. Extra care is needed to ensure extra bundling to prevent accidental cold.
Play it safe
It is important to be aware of the potential hazards of snow play. Precipitation such rain, snow and the ice created by colder weather create perfect environment for falls and suffocation.
Make note of the surrounding environment and ensure that safe equipment (e.g. helmets and proper footwear) is being used and safety practices are being followed to keep children safe during winter activities such as sledding, skiing, snowboarding and skating.
A properly fitting hockey helmet can protect your child's head against impact injuries associated with winter activities on icy surfaces.
Discourage play in or on snowbanks and the building of snow forts. Children can very easily become trapped in a snow structure and suffocate. Encourage creative snow play such as making a snow house with walls (instead of a ceiling) and fill it with "snow furniture."
Wear sunscreen even in winter. The sun's rays can still be harmful.
Services related to this information:

Contact your Public Health Nurse
811 HealthLine (Newfoundland & Labrador) – Call 811 or 1-888-709-2929 / TTY 1-888-709-3555