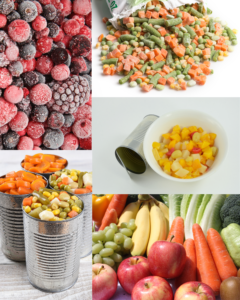 Eating a variety of vegetables and fruits is an important part of a healthy eating pattern and may lower your risk of heart disease.
According to Canada's Food Guide, a healthy eating pattern works to:
Help you feel good
Maintain your health & reduce risk of chronic disease
Provide vitamins and minerals to meet your nutritional needs
Vegetables and fruits come in many forms, such as fresh, frozen, and canned.
Frozen and canned vegetables and fruits:
Are just as nutritious as fresh vegetables and fruits
Are a healthy and convenient option
Take little time to prepare
Often cost less than fresh vegetables and fruits
Canada's Food Guide recommends:
Trying to make half (50%) of your plate vegetables and fruit
Including plenty of vegetables and fruits with your meals and snacks
Choosing different textures, colours, and shapes to fit your taste
For more information on vegetables and fruits, visit: https://www.gov.nl.ca/healthyeating/veggiesandfruit/.
Services related to this information:

Contact your Public Health Nurse:
811 Dial-a-Dietitian (Newfoundland & Labrador) – Call 811 or 1-888-709-2929 / TTY 1-888-709-3555