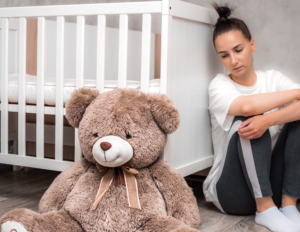 Being home with a new baby does not always feel like you thought it would.
Up to 80% of people experience the "baby blues" during the first few days after childbirth. You may lose sleep, feel irritable, cry easily, or feel happy one minute and sad the next. Hormone changes may be a cause of these emotional changes. Plus, there are the demands of a new baby, visits from relatives, or other family needs that add to the stress. The "baby blues" usually peak around the fourth day after chilbirth and then ease up in about two weeks.
If you have been feeling sad for two weeks or more, it is time to reach out for support. To learn more, visit postpartum depression.
Caring for yourself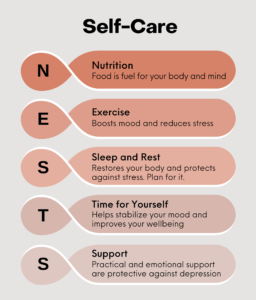 Your wellbeing is important for you and for your baby.
Think of self-care like a NEST(S). Some tips for your NEST(S) may include:
Nutrition – make fruits and vegetables part of your snacks and meals. If people offer help, ask them to prepare a healthy meal for your family. Something you can easily heat up. Avoid alcohol and caffeine as much as possible.
Exercise – take daily walks with your baby. Make movement a part of your day whenever you can.
Sleep – sleep whenever you can. Plan for how you will be able to get some sleep. Sleep when the baby sleeps. Ask family or friends to care for the baby while you rest or nap. Take turns with your partner getting up with your baby at night if possible.
Time for yourself – take time to do something you like to relax. Take time to think about how you will take care of yourself. Even ten minutes to listen to music, use a mediation app or go for a walk alone.
Support – if people ask how they can help, be practical, ask them to do the laundry. Connect with other new parents or friends for emotional support. It is important to have someone who can relate to what you are feeling as you transition to your new role as a parent.
Becoming a parent is a time of change. Everyone is learning – you, your baby, and your family.  Caring for yourself and seeking support when needed are skills that will help you along your parenting journey.
Services related to this information:

Contact your Public Health Nurse
Doorways Counselling Service

Doorways provides rapid access to mental health and addictions counselling services 'one session at a time.' While most Doorways locations offer a walk-in service, some locations provide same-day or next day services or appointments by phone. Walk-in counselling services are available without an appointment or referral.

Bridge the Gapp

Newfoundland and Labrador's 'go-to' website for mental health information. Bridge the Gapp offers self-help resources, links to local services, and invites people to share their personal stories. Bridge the Gapp is free of cost and available to every resident in the province. The site is divided into adult and youth sections, however many services are appropriate for both.

811 HealthLine / Mental Health Crisis Line (Newfoundland & Labrador) – Call 811 or 1-888-709-2929 / TTY 1-888-709-3555

811 is free and confidential. 811 is available 24/7 and can provide support with mental health and addictions issues and more. Services formerly offered by the Provincial Mental Health Crisis Line are now offered by 811. Call 811 to speak with a registered nurse who is also a trained crisis intervener.