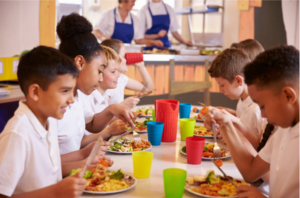 The School Food Guidelines support healthy eating in schools by making the healthy choice the easy choice. This can help to build a foundation for life-long healthy eating. The guidelines apply to all foods and beverages sold or served at school including:
Cafeterias
School sponsored events (ex. sports and drama)
They do not apply to lunches and beverages brought from home. The 2021 Provincial School Food Guidelines are based on Canada's Food Guide.
Why do we have School Food Guidelines? (click to expand) »

The guidelines help to create a healthy food environment. They:

Increase your child's access to healthy foods and beverages
Limit your child's exposure to highly processed foods and beverages
Show your child what healthy meals and snacks look like
Give your child the opportunity to make healthy choices
Create a connection with what your child learns at school
Support the development of life-long healthy eating practices

For general information on the School Food Guidelines, click here.
Find resources for preparing healthy lunches and snacks for your child at the links below:
Services related to this information:

Contact your Public Health Nurse:
811 HealthLine (Newfoundland & Labrador) – Call 811 or 1-888-709-2929 / TTY 1-888-709-3555