Pregnancy and Weight Gain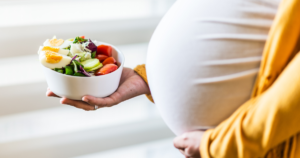 During pregnancy, your body goes through many changes to help give your baby a healthy start. Gaining weight during pregnancy is natural, normal, and healthy.
Gaining a healthy amount of weight:
Helps your baby grow and develop.
Helps prevent complications during pregnancy and delivery.
Helps your body make breastmilk.
How much weight should I gain?
Your healthcare provider can help you decide a weight gain target that is right for you, based on your weight before you became pregnant.
In the First Trimester (0-13 weeks): Usually 1-2 kilograms (about 2-4 pounds).
In the Second and Third Trimester (14-40 weeks): Usually slow, steady weight gain.
The weight you gain includes the:
weight of your baby
extra blood, fluids, tissues and energy stores that support your baby's growth and development.
Enjoy being active each day
Try to get 150 minutes of moderate-intensity physical activity each week.
Try to be active at least three days a week.
Keep in mind:
If you are just starting out, start slowly and listen to your body; over time, increase the amount of time you are active.
Eat a small snack 15-30 minutes before being active to help fuel your body.
Drink plenty of water before, during and after being active to help you stay hydrated.
Check with your healthcare provider before starting a new or more strenuous activity.
Check with your healthcare provider if you have questions about being active while pregnant.
Check out Physical Activity During Pregnancy for more information.
Eat twice as healthy not twice as much
Try to eat a variety of healthy foods each day, including vegetables and fruits, whole grain foods and protein foods.
Eat a little more food each day, such as an extra snack or a little more food at one of your meals.
Check out Healthy eating when pregnant and breastfeeding or the 811 Dial-a-Dietitian service if you have specific questions about healthy eating.
Services related to this information: