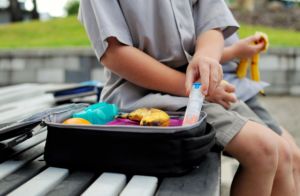 Food allergies are one of the most common types of allergies. A food allergy is a medical condition where your immune system treats something in a food, called an allergen, as if it is dangerous to you. Your body reacts to the food allergen by having an allergic reaction. Check out the allergy page for general information about allergies including signs and symptoms of allergies and anaphylaxis. If you are having symptoms and are unsure if it is an allergic reaction, talk to your family doctor.
What Foods Cause Allergies? (click to expand) » 

Although any food can cause an allergic reaction, the most common allergens in food are:
How Do I Know if a Food Has an Allergen? (click to expand) » 

A food label says if a food has any of the common food allergens. The common food allergen may be included in:

the ingredient list
a "Contains" statement right after the ingredient list.

Common food allergens are listed by their common names so you can easily recognize them.
How Can I Prevent an Allergic Reaction? (click to expand) » 

If you have a food allergy, the only way to prevent an allergic reaction is to avoid the food allergens that you are allergic to. Health Canada gives tips for avoiding common allergens in food.
What Can I Do to Prevent My Child from Getting Allergies? (click to expand) » 

Waiting past six months to introduce foods which commonly cause allergies or avoiding these foods when breastfeeding does not help prevent you child from getting allergies. Check out Healthy Eating for Babies and Food allergy vs. food intolerance: What is the difference and can I prevent them? for more information on how to introduce foods which commonly cause allergies.
For general information about allergies, check out the Eastern Health Allergy page.
Services related to this information: