Making Healthy Choices When Eating Out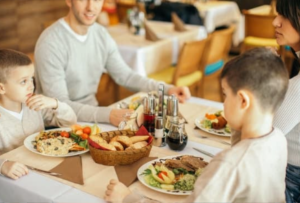 With busy lifestyles, people are choosing more food and beverages that are prepared outside of the home from coffee shops, work or school cafeterias, vending machines, grocery stores and restaurants.
Food choices when eating out can be more expensive, higher in sodium, sugar and saturated fat than food prepared at home.
Here are some tips to help you choose healthier options when eating out:
Include vegetables and fruits with your meals.
Choose foods made with whole grains.
Choose foods on the menu that are baked, roasted, grilled or steamed
Choose water instead of sugary drinks.
Ask for sauces, dressings and condiments "on the side"; you can decide the amount to use.
Limit cakes, cookies and desserts. If you do eat them, get a smaller size or share with someone.
Services related to this information: